Designer Özlem Süer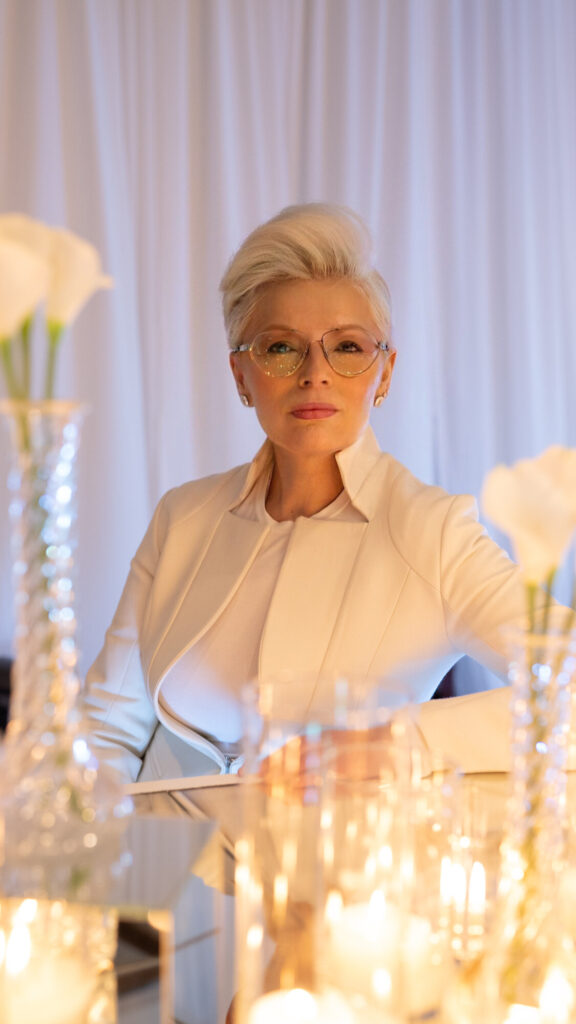 Özlem Süer
Özlem Süer, whose designs are defined as Avant-Garde, Neo-Romantic, Experimental, Conceptual and interdisciplinary by the world fashion authorities, performs solo or mixed performances all over the world with her art installations that she synthesizes different disciplines from a conceptual point of view, as well as unique collections that she has created inspired by different stories every season in her 30-year fashion and design adventure.
Education and Academic Studies
She received her undergraduate education at Marmara University, Faculty of Fine Arts, Department of Textiles, and completed her Master's and Doctoral programs at Mimar Sinan Fine Arts University, Department of Textile and Fashion Design. She left the same department as an assistant professor and established her own brand. Currently, she is teaching at the Undergraduate, Graduate and Doctoral stages of "Clothing Design " as a lecturer.
Özlem Süer has been representing Turkey together with Ümit Ünal at INTERCOLOR, the World Color and Concept Association, since 1997, where the colors and trends of the two years later are determined. They transfer the information revealed in the meetings held twice a year to the relevant sectors and through academic seminars and workshops at domestic and international universities.
Artistic Activities
Activities Related to Conceptual Art: Exhibition participation, Performances on the Subjects of Plastic Arts and Wearable Arts
Performance and stage projects: Stage Costumes, Performing Arts Costumes and Image Studies
Sectoral Activities
Creative-Corporate consultancy: To provide concept and design development consultancy services in different creative fields from yarn to weaving, from interior textile design to jewelry design
Lighting conferences entitled international consumption trends and fashion: To define new ways of life, what is coming, focused on product and service development and to associate it with the relevant sector
Her Approach to Fashion and Design
Looking at the concept of design with an identity that produces solutions and producing products that question the design philosophy sums up the design adventure, which she sees as a long journey.
Apart from the industrial identity of fashion, with her performances and shows in fashion centers of the world such as Düsseldorf, Tokyo, London, Milan, Moscow, Paris, New York and Berlin, it has also become a well-known and remembered design brand in the world with its stance close to art. With more than forty personal fashion shows and performances, she has a signature in many fashion shows at home and abroad.
Özlem Süer, who seeks what is experimental and new in her designs and connects her designs with concepts while doing so, carries out promotion and sales from fashion centers in a very wide geography every season with her collections in which material and color come to the fore.
ÖZLEM SÜER HOUSE
The "ÖZLEM SÜER HOUSE" building, which was built in 1928 and is a second-degree historical monument, is a concept store located among giant magnolia trees with magnificent botany in Nişantaşı. "Özlem Süer House" has been developed for the first time in Turkey inspired by the spirit of fashion design bases of giant brands in the world, differentiated by the services provided, serves as an original design/application area and a Maison with an alternative stance.
Wedding dresses with Özlem Süer White,
Ready-to-wear with Avantgarde Couture,
With Pret a Couture, evening costumes are located in exclusive spots in the House.
Özlem Süer House, which creates new luxuries in new ways of life, exhibits a high design spirit with its different lines and creative projects. Özlem Süer House, which produces solutions with a spirit that dominates the whole and acts with the principle of creating a difference, is the choice of those who choose to be privileged as a way of life.
İstanbul
Teşvikiye, Büyük Çiftlik Sk. No:20, 34365 Şişli/İstanbul
Telefon: (0212) 240 57 38